Words from the Glossary
This month we take a look at leakage and live recording.

Leakage and Live Recording

This month's terms: bleed, live, live room, live recording, overdub, field recording, location sound, on-location recording, gobo, isolation booth, vocal booth.
(Note: Click on the term to view its definition in the glossary.)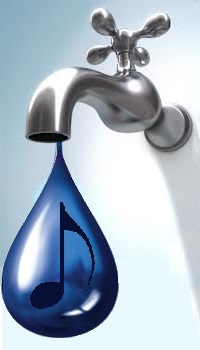 Leakage is one of those things that recording engineers worry about. It is the phenomenon of unwanted sounds of one track getting into another track. Also known as bleed, bleeding, spill, or spillage, it is caused by the inability to keep instruments or vocals separated when they are recorded at the same time—what we call recording live in the studio. The problem occurs at mixing. If something loud like a snare drum overwhelms a vocalist or a quiet instrument like an acoustic guitar, it becomes difficult to hear it in the mix.

One way to prevent leakage is to not record live, and instead use overdubbing. That is when each performer records his part separately onto an individual track while listening with headphones to what the other musicians have played. While there are many advantages to overdubbing, some bands prefer to record live. They feel that have more spontaneity and some bands who perform regualarly on stage play off one another.

In those situations, it become the engineer's job to do what he can to minimize leakage—it can't be eliminated because microphones pickup whatever sound is in the room. One way to do reduce leakage is to put each musician in a separate room. However, most studios do not have facilities that allow everyone to have his or her own space. Another option is to use a gobo. A gobo, which comes from "go between" is sometimes called an acoustic screen. It is a portable panel that can be placed between musicians to minimize leakage.

Another solution is to isolate loud instruments, such as an electric guitar cabinet, which can sometimes be placed in an isolation booth. Although isolation booths are primarily used to isolate the vocalist (the vocal booth) from the rest of the band, they can be used to isolate other things. By using a combination of these techniques and choosing the correct type of microphones to reduce bleed, most live recording sessions can be managed fairly well.

The term live recording needs to be discussed a little more to avoid some confusion. The term is also used to mean a recording made of a live performance before a live audience, such as a concert. It can also mean a recording made with many natural reverberations. There is a general term field recording, which means any recording not made in the studio. That can be a live recording before a live audience, the recording of animal sounds in the wild, or a location recording, the recording of ambient sounds for use with a film or video shoot, such as street sounds or birds in a park. Location recording is also called production sound, live sound, or location sound, but it should not be confused with on-location recording, which is essentially the same thing as a live concert recording. At this point, I think I probably have not only confused you, but myself as well. So we'll leave there until next month.