Words from the Glossary
This month we take a look at filters and how they are used in the recording studio.

This month's terms: filter, lowpass filter, highpass filter, bandpass filter, allpass filter, bell filter, brickwall filter, notch, notch filter, noise filter, pass band, stop band, broadband, wideband, narrowband.
(Note: Click on the term to view its definition in the glossary.)


Filters

A filter is a device that reduces audio signals of certain frequencies and allows other frequencies to pass. It is the function that makes an equalizer work. Filters come in many types and designs. We do not have space to cover what makes a filter work in this newsletter, but we will attempt to explain the various types and what they do.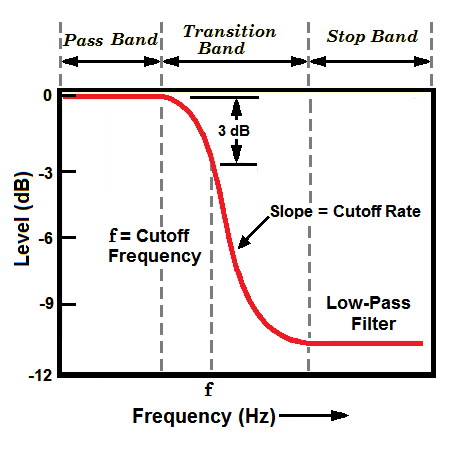 A lowpass filter is a filter that passes signals below a certain frequency (the cutoff frequency) and reduces the signal of frequencies above that. Because this somehow sounds counter-intuitive, it is sometimes call a high-cut filter.

A highpass filter is just the opposite, reducing the signal below the cutoff frequency and passing those above it. As you might expect, it is sometimes called a low-cut filter.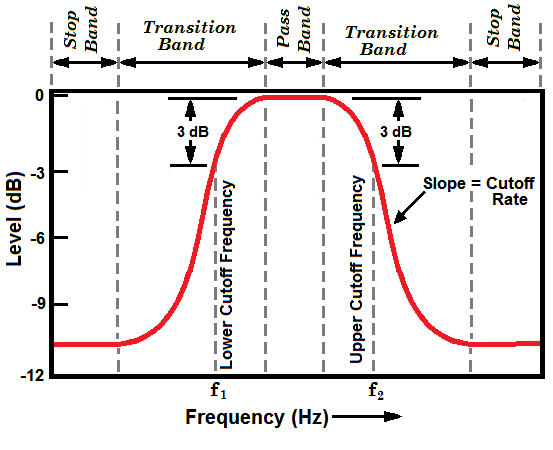 A bandpass filter passes frequencies of a certain range while reducing the frequencies outside that range. It is like a combination of a lowpass and highpass filter.

You might expect that an allpass filter passes all frequencies, which it does. So what's the point? Well, an allpass filter is a signal processing devices that changes the phase relationship between various frequencies. So in a since, it is not a filter at all.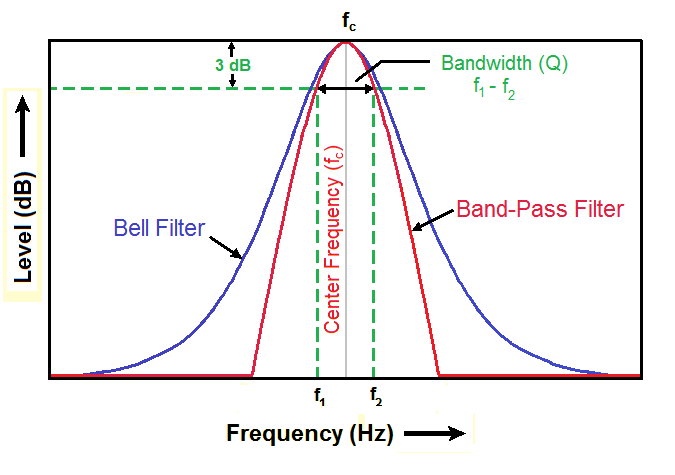 A bell filter, sometimes called a haystack filter because of its shape, is a filter that follows the familiar bell curve. Although similar in appearance to the bandpass filter, they are somewhat different, but the two terms are often used interchangeably.

A notch is a very narrow band of audio frequencies. A notch filter is one that reduces such a band. A noise filter is used to remove...you guessed it...noise from an audio signal.

Now we will touch on a few terms used to describe filters. A passband is the range of frequencies that are unaffected by a filter and are allowed to pass through, and the opposite of stopband, the range of frequencies reduced by a filter.

If the range of frequencies is small, it is called a narrowband. On the otherhand, if the range of frequencies is large, it is called a wideband or broadband.

That just about covers everything I know about filters. So we will see you again next month.