Words from the Glossary
This month and next, we take a look at how audio formats have changed over time.

This month's terms: wax cylinder, phonograph, gramophone, LP, 78-rpm, 45-rpm, 33⅓-rpm, shellac, condensite, vinyl, PVC.
(Note: Click on the term to view its definition in the glossary.)


Audio Formats - Part 1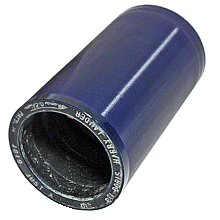 The wax cylinder, invented by Thomas Edison, was the earliest mass market medium for recording and reproducing sound. It consisted of a cylinder made of wax, a mixture of paraffin and beeswax, into which an audio recording was engraved in grooves on the outside surface. Originally, the cylinder used tin foil, but Alexander Graham Bell suggested using wax. Because they became worn after being played a few dozen times, the beeswax formulation was later changed to carnauba wax, which not only increased longevity, but improved fidelity—still rather poor by today's standard.

In 1887 Emile Berliner patented the Gramophone. The Gramophone was originally the trade name, and it used a flat disc rather than a cylinder, kicking off the first format war. Berliner called this audio disc a "gramophone record," but in the US it was called a "phonograph record." Even cylinders were called "records" at the time. Because discs were easier to store and could be easily and cheaply mass-produced, they eventually won the format war. Although the discs were at first recorded on just one side, someone soon realized that recordings could be placed on both sides.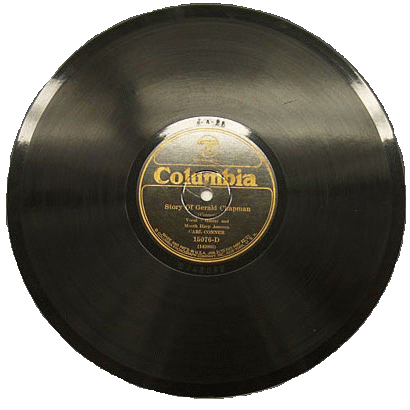 Originally there was no standard speed of rotation for records. Recording speeds varied from 60 to over 100 rpm. Since they were spun by a hand-cranked spring, it really did not matter. In 1925 with electric motors coming on the scene, the standard speed of 78-rpm was established. The exact speed depended upon the frequency of the ac power. For countries with 60-Hz power, the speed was 78.261 rpm, due to a 3600-rpm synchronous motor having a gear reduction of 46:1. For 50-Hz power the actual speed was 77.922 rpm, resulting from a 3000-rpm synchronous motor being reduced by 77:2. For many years, these records were called simply "78s."

These records were made of shellac, a resin made from the secretions of the female lac bug. Although the formulations used in records varied over time and by manufacturer, it typically consisted of about one-third shellac and two-thirds mineral filler—usually finely ground slate and limestone—plus cotton fibers for tensile strength. Because the mixture tended to be an ugly gray or brown color, carbon black was added to make them black.

In 1912, Edison introduced the Diamond Disc records, made of condensite, a thermosetting varnish that consisted of a mixture of wood and flour with a layer of celluloid molded to the top and bottom. Condensite was applied to each side of the disc and was cured in a heated oven to create a blank record ready for the pressing process. These discs were distinctive because they were very thick disc, about ¼" thick. Althought they were much quieter than the shellac discs used by others, they suffered from cracking and delamination.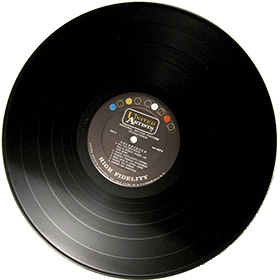 In 1948, Columbia introduced the Long Playing record, or LP as it became known. It was a 33⅓-rpm microgroove vinyl record made of vinyl. It was soon adopted as the new format by record industry. Because of the narrower grooves, it required a new type of stylus (needle) to be played, but up to 20 minutes could be recorded on each side. The discs were made of vinyl, which is short for polyvinyl chloride (PVC). Although they were not unbreakable, they were much more durable than the 78s had been. In 1957 the first commercial stereo version of the LP was introduced.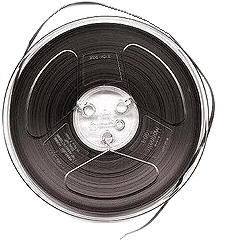 About the same time the LP was introduced, pre-recorded open reel tapes were released. Although they were available in stereo before LPs were, they never really caught on except with true audiophiles. The retail prices were much higher than LPs and they were much more cumbersome to play than records. Musical genres were limited primarily to classical, soundtracks, original cast albums, and major pop artists, which were more likely to appeal to audiophiles. As other tape formats became available toward the end of the 1960s, the open reel tapes began to decline in popularity.

Next month we will continue looking at audio formats, beginning with tape cartridges.