---
Words from the Glossary
As we continue looking at various terms in our glossary, this month we take a look at stereo localization.

This month's terms: stereo imaging, localization, localize, soundstage, interaural, interaural time difference, interaural level difference, interaural phase difference, interaural phase difference, zone of silence, shadowed ear unshadowed ear. (Note: Click on the term to view its definition in the glossary.)


Stereo Localization

Stereophonic sound is the reproduction of music using two speakers to create a soundstage or stereo image, the perception that various instruments or sounds are coming from various locations between two stereo speakers. This perception is a phenomenon known as localization, the ability of human hearing to perceive the location or direction of a sound source. The human brain localizes or determines the direction of sound using three effects.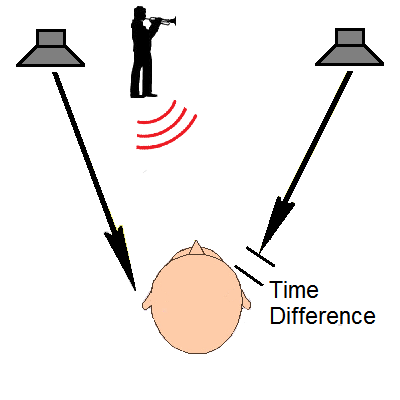 Interaural time difference (ITD) is the difference in arrival times due to the distance between the ears. Interaural literally means "between the ears" and refers to the difference that one ear hears compared to that of the other. Sound travels at about 1100 feet per second. Although the head is only 6 to 8 inches across, it takes about a millisecond longer for a sound arriving from the left to reach the right ear.

Interaural level difference (ILD), sometimes called interaural intensity difference (IIT), is the difference in sound intensity between the two ears due to the head shadow. A head shadow is an acoustic shadow caused by the human head, an area of decreased sound level due to the sound being obstructed by the head. Because of the head shadow, a sound reaches the the shadowed ear, the ear turned away from a sound with a lower intensity than the unshadowed ear, the one turned toward it. It can actually create a zone of silence, an area where sound becomes inaudible due to interference or refraction even though it can be heard at distances further from the source.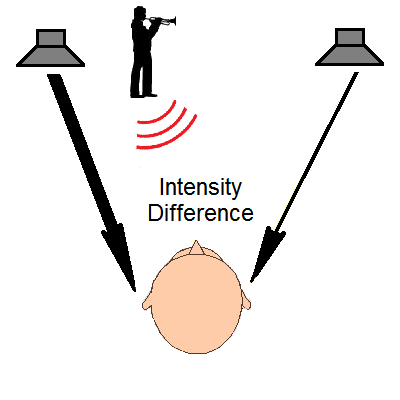 Finally, interaural phase difference (IPD) is the difference in the phase of a sound wave when it reaches each ear. The phase difference is dependent on the frequency of the wave and the ITD. For example, a 1000-Hz tone that reaches the left ear 0.5 ms before the right ear will be 180 degrees out of phase from the wave reaching the right ear.

So why do we even care about all of this. As we discussed last month, when a sound engineer starts mixing a newly recorded song, often one of the first things he does is start panning the various instruments and sounds. With true stereo, all of the above effects are created automatically. However, with panpot stereo, these effects are created artificially. So some degree of understanding of this science is helpful in making the stereo signal sound real.


• The first Billboard Hot 100 singles chart was published in August of 1958. The first number 1 hit on that chart was "Poor Little Fool" by Ricky Nelson.

• John Lennon's middle name was Winston, named after Winston Churchill. Lennon never liked the former British Prime Minister very much. So after he married Yoko, he changed his middle name to Ono.

• "Love Hurts," written by Felice and Boudleaux Bryant, has been recorded nearly 50 times. It was orignally recorded by the Everly Brothers in 1960, but was never released as a single. Roy Orbison released it in 1961 as the B-side to "Running Scared." Although it received significant airplay in some parts of the US, it only reached No. 97. In 1976, Nazareth released "Love Hurts" as a B-side filler, never intending it to be a hit. It reached No. 8 in the US and No. 15 in the UK, becoming the highest charting version of the song.

In the Studio
A few years ago, we started a column in this newsletter entitled "In the Studio," in which we mentioned who was currently in the our studio. We quickly learned that many people would be here off and on for several months, making it difficult to cover new people. So we stopped doing that. Recently a friend suggested doing a column on who has been in the studio, not necessarily right now. So here we go. Maybe not every month, but at least once in a while.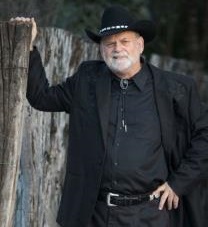 I'm going to start by covering some of the session players. These are quite often the unsung heroes of recording sessions, who can often make or break a session. One of the first names to come to mind is Bill Middleton. He was a Nashville session player where he played guitar for many country artists including Jean Shepard, Stonewall Jackson, and Porter Wagoner. He played on the Grand Ole Opry for over 13 yeas. He happens to be from West Columbia, Texas, which is not far from where I grew up. He returned to Texas a few years ago making his home in Fischer, Texas. He formed a new band called the String Slingers. Now a days, you can often find him playing in clubs and restaurants around the Hill Country, and sometimes sitting in with other performers such as Neal Ford.


Free Studio Time
Want to receive some free recording time in the studio? If you refer someone to Los Senderos Studio and they come in for a recording session, I will give you two free hours of recording time. That's a $50 value. Simply send the name of your referal on an email. As soon as they come in to record, I will credit you with a two-hour session. What could be easier?
Los Senderos Studio, LLC
A Recording Studio in the Hill Country.

8409 N US Highway 281 ★ Blanco, TX 78606-5024
Phone: 512-565-0446 ★ Email: Larry@LosSenderosStudio.com

---
Copyright © 2008-2018 Los Senderos Studio, LLC