---
Words from the Glossary
This month I'm going to attempt to discuss another one of those topics that is somewhat confusing and often misunderstood. The topic is audio file formats.

This month's terms: audio file format, codec, compressed uncompressed, decompress, container format, metadata, ID3 Tag. (Note: Click on the term to view its definition in the glossary.)


Audio File Formats

There are many audio file formats available for use today. The most common of these are the WAV, MP3, and AAC. However, you may occasionally see others, such as FLAC, WMA (Window Media Audio), Ogg Vorbis, ALAC, ATRAC, and many more.

An audio file format is a method of formatting digital audio data so that it can be stored as a computer file. The audio data can be either compressed or uncompressed. Data compression is the computer process by which a data file is reduced in size by eliminating useless or redundant information or data that is unnecessary. (Data compression should not be confused with audio compression which reduces the dynamic range of an audio signal using a compressor. The term audio compression is sometimes used to refer to both audio compression and data compression, which can lead to some confusion.) A compressed file can be returned to a usable (playable) form through decompression.

The method by which audio is compressed and decompressed is called a codec (a contraction of code and decode) and is separate from the file format. This is where the first bit of confusion is introduced, because in the case of the mp3, the codec and audio file format are the same.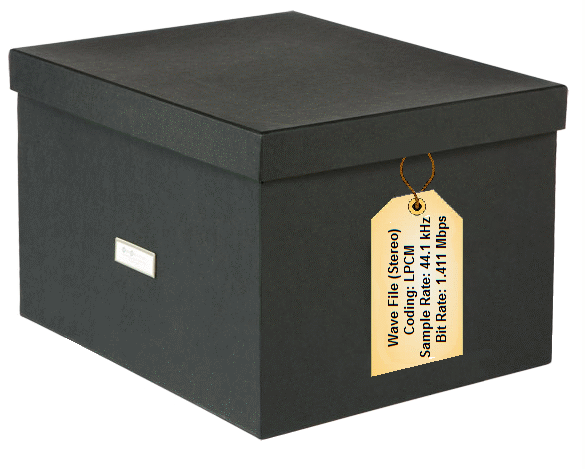 The audio file format is a container format, a type of computer file format that can hold a variety of data, such as audio, video, and other types of data. Container formats can be thought of as being a box. You can put anything you want in it. However, just like packing a moving box, you need to label it to know what's inside. For that reason, in addition to the audio data, a container includes metadata.

Metadata is data about data. The card catalog in a library is an example of metadata. In the case of audio files, metadata is information often contained in a header that tells the computer such things as the codec used, the bit rate, the sampling rate, and other information needed to decode or decompress the data. In addition metadata can include the title, the artist, the album cover art, and other information. In the case of an mp3 file, the metadata is called an ID3 Tag.

Some audio formats can use more than one codec. For example, a wav file can be encoded using PCM, MPEG3, and several other codecs. In the case of Ogg Vorbis, Ogg is the container format, while Vorbis is the audio compression codec.

You can usually tell what format is being used by the computer file extension. For example, WAV files use the extension .wav, MP3 files use .mp3, and AAC files use .m4a.

The Waveform Audio File Format (called WAV files or WAVE files) is the standard Microsoft and IBM format for uncompressed audio files used on Windows computers. It is a container format that can contain a variety of audio codecs including compressed audio, but the most common WAV format is uncompressed audio using LPCM (linear pulse code modulation), which is the standard audio coding format used for audio CDs. AIFF (Audio Interchange File Format) is a similar format used by Apple that uses the .aif or .aiff extension. At one time, WAV files could only be used on Windows computers and AIFF files could only be used on Apple computers. Today, most computers will read either format.

A variation of the WAV file is the broadcast wave format (BWF). This is the format used by digital recorders in the movie, radio, and television industries. These files have extended extended metadata to provide for the seamless exchange of audio between different computer platforms and applications. These files can have either the standard .wav extension or the .bwf extension.


• In January, 2005, on the anniversary of Elvis Presley's 70th birthday, "Jailhouse Rock" was re-released in the UK. It immediately climbed to No. 1, becoming the oldest recording to top the UK charts, 47 years after its original release.

• The 1950s singer Pat Boone claimed to be a direct descendant of the American frontiersman Daniel Boone. However, various geneologists have failed to prove a direct link, though he may be related.

• The song "Blue," written by Bill Mack in 1956, was supposedly written for Patsy Cline, but it wasn't. Roy Drusky pitched the song to Cline, but she died in a plane crash before she recorded it. "Blue" was recorded by several artists including Bill Mack, but it did not become a hit until LeAnn Rimes, who was 12-year old at the time, recorded it in 1994 at Norman Petty's Clovis, NM, studio. Petty had passed away ten years before that.

Vote for Me
With the election season having recently ended, I hesitate to ask anyone to vote for anything. However, to demonstrate my mixing skills, I decided to enter the HOFA Christmas Mixing contest this year. If you go to this link, you can hear my entry as well as vote for it. You can also listen to other entries.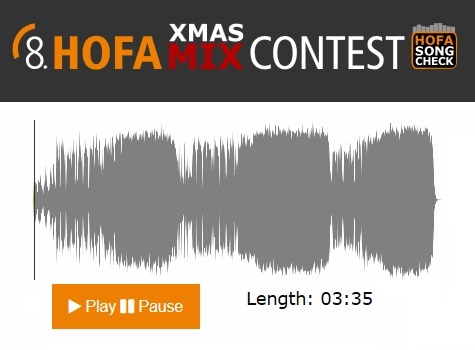 The winner of the contest will be chosen from the entries receiving the top 10 number of online votes. The day I posted my entry, several other contestants already had hundred of votes. So there is a lot of ground to makeup, especially since voting ends in mid-January.

The song consisted of over 40 tracks including drums, guitars, orchestra, and some special instrumentation. The song is "Ganz Nah Dran" sung by Stafany Camee, in German. HOFA is a German company that specializes in acoustic treatments and other professional audio products. Hence, being sung in German.

I have listened to several of the other entries, which, for the most part in my opinion, sound very similar to one another. If you agree and think that my entry sounds different, but better than the others, I would appreciate your vote. The only way for the judges to hear my entry is to get enough votes to finish in the top 10. So wish me luck. And thanks for your vote. I approved this message.

Los Senderos Studio, LLC
A Recording Studio in the Hill Country.

8409 N US Highway 281 ★ Blanco, TX 78606-5024
Phone: 512-565-0446 ★ Email: Larry@LosSenderosStudio.com

---
Copyright © 2008-2018 Los Senderos Studio, LLC