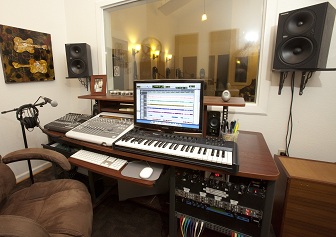 Los Senderos Studio consists of a small control room, a live room, and an isolation or vocal booth. The control room contains the computer (for digital recording), mixer, preamps, and other signal processing equipment. It is used primarily for controlling the recording process, but it can be used for recording vocals, solo instruments, or for voice over work. Other uses include making overdubs, mixing (both rough and final), and mastering.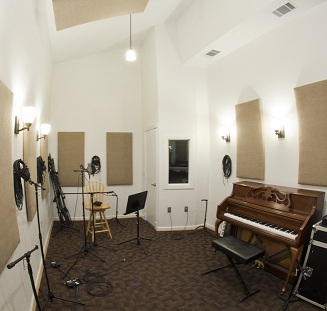 The live room (studio) is a 20 x 11-foot acoustically-treated room for recording vocalists and groups, as well as amplified and acoustic instruments. A piano and a small number of percussion instruments are available. There is a small, sound-deadened, acoustic-foam-lined vocal booth (see photo below) when complete isolation of the vocalist is desired. We can record one channel at a time or simultaneous multiple channels for recording string ensembles and bands of almost any genre—rock, country, gospel, Americana—you name it. We can also do voice overs.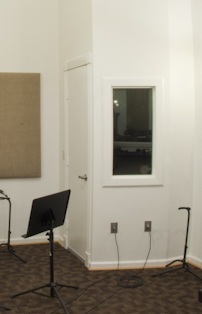 We have an array of high quality microphones and equipment to provide the type of sound you want. The studio is just one phase of what defines a studio's sound. (For more information, see the article entitled What gives a studio its sound? Other articles can be found here.



Call us to arrange a studio tour. If you have any questions, please call us.