Words from the Glossary
As we continue our exploration of terms from our glossary, this month we discuss audio cables and connectors.

Cables and Connectors

This month's terms: cable, balanced line, unbalanced line, TRS, XLR, TS, phone plug, phone jack, phono plug (RCA plug), phono jack (RCA jack), miniature phone plug (miniplug), banana plug (BR plug), BNC, ADAT, S/PDIF, AES3 (AES/EBU), TOSLINK, optical audio cable, USB, FireWire,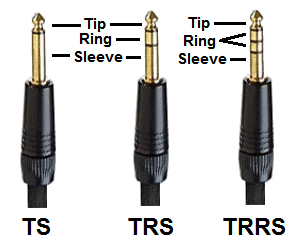 All right, I know discussing audio cables is probably a boring subject, but it is a very important subject. If you bear with me, I will try to explain why. First of all, none of the sound being created in the studio would ever make it to the control room and eventually on to your latest CD without cables . . . unless you were using wireless microphones. Very few recording studios use wireless mikes. Many are very temperamental and those that are not tend to be very expensive. So the vast majority of studios use cables.

Like many things in life, cables come in consumer and professional versions. To simplify things, this can be boiled down to balanced and unbalanced cables. Without getting too technical, both types of cables have a shield—a wire mesh that surrounds the conducting wires inside. The shield protects the signal in the conductors from stray radiation from such things as power lines, radio stations, flourescent lighting, and so forth.

With unbalanced cables (which are the consumer version for the most part) only one wire is inside the shield and the shield itself is used as the second conductor. With balanced lines (line is another term for a cable), both conductors are inside the shield. That means the shielding is much more effective and longer lengths of cable runs can be used without picking up stray noise.

Balanced cables typically use an XLR connector (see picture at top of page), the type, as most musicians are familiar with, that are used to connect to the microphone. Sometimes balanced cables use the 1/4-inch TRS connector (see illustration above right). This is the familiar plug used with stereo headphones. However, just to throw in some confusion, the same cable with TRS connectors that is considered to be balanced in a studio application is actually unbalanced with stereo headphones. That is because a stereo cable has three conductors—one each for the left and right channels and a ground that uses the shield. Because the shield is being used as a conductor, it is now unbalanced.

The unbalanced cable musicians are most familiar with is probably the one using a TS connector (sometimes called a phone plug) and commonly used to connect a guitar to an amplifier. That is why you frequently have hum with a guitar—and the fact that most guitar amps use vacuum tubes which are inherently noisy. (More likely the latter than the former.)

A smaller version of the stereo connector, often used with headphones attached to smart phones, MP3 players, and tablets, is called a miniature plug or miniplug. Sometimes it is incorrectly called an 1/8-inch plug to distinguish it from the 1/4-inch TRS plug. You will also often find the phono plug and jack used with consumer electronics, but seldom with professional recording equipment.

The banana plug is used for many applications, but in audio it is most often used to connect an amp and speakers for live applications. The main use for the BNC connector in the studio is for connecting timing cables between digital devices. Speaking of digital signals, in the studio these are usually transmitted using either ADAT, AES3, or S/PDIF (the last one was actually developed for the consumer market). TOSLINK is the digital protocol used for consumer devices and is the one used with optical cables, for example, between the DVD player and your TV set.

Most studios today use some sort of digital interface to input the music into a computer. Typically this is connected via a USB cable with a Windows system or a FireWire cable if using an Apple platform, but sometimes vice versa, and new standards are on the way. As with many things digital, today's way of doing things will change tomorrow.