Words from the Glossary
We continue our journey through the terms from our glossary by taking a look at the audio spectrum.

The Audio Spectrum

This month's terms: audio spectrum, frequency response, frequency range, bass, bottom end, low end, midrange, presence, presence range, presence peak, high end, high frequencies, treble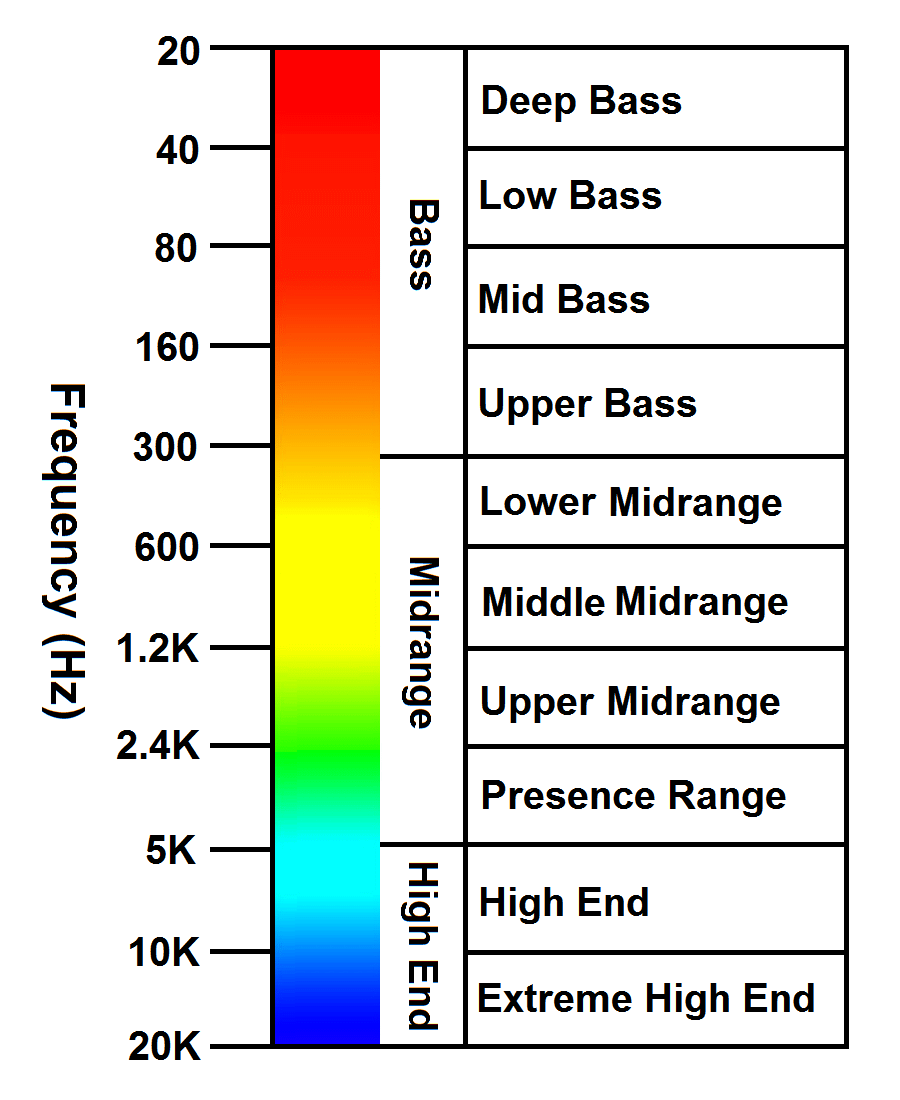 The audio spectrum is to the ear what visible light is to the eye. It is the range of frequencies audible to the human ear, about 20 Hz to 20,000 Hz (20 kHz). It is also called the audio bandwidth, aural bandwidth, or audio frequencies. Unfortun- ately, as we grow older, we tend to lose our ability to hear sounds on the upper end of that range. It is not unusual for someone over 60 to not be able to hear sounds over 10 kHz. It would be equivalent to saying that a person over 60 cannot see greens, blues, and purples.

It good for a musician to have a working knowledge of what these various ranges are and what they are called. The audio spectrum is generally broken down into three main ranges: bass, mid-range, and high end. These ranges are often further broken down into additional subdivisions. As with many things in the recording world, the way they are broken down varies from source to source, and there are no exact values as to how these ranges are defined. However, the general breakdown is by octave. Looking closely at the chart above right, you will see that each subdivision occurs at a frequency that is about double the one below it—in other words, about an octave apart.

So the bass range is broken down into deep bass (20 to 40 Hz), low bass (40 to 80 Hz), mid bass (80 to 160 Hz), and upper bass (160 to around 320 Hz). The midrange is broken down into lower midrange (around 300 to 600 Hz), middle midrange (600 to 1200 Hz), upper midrange (1.2 to 2.4 kHz), and the presence range (2.4 to 5 kHz). Finally the high frequencies, sometimes called the treble range, are broken down into the high end (5 to 10 kHz) and extreme high end (10 to 20 kHz).

Everything seems to be following a pattern except for the presence range. Why is it singled out and named somewhat differently? The presence range is the frequencies which tend to make an instrument or voice seem to be present right in the listening room. A boost in these frequencies tends to improve clarity, definition, and...well, "presence." Many manufacturers of microphones deliberately design their microphones to have a presence peak—an increase in frequency response in that particular range—just to improve the presence.

Finally, a word about frequency range and frequency response. Although they are similar and often used interchangeably, they have slightly different meanings. Frequency range is the range of frequencies that a microphone can capture or an electronic device or speaker can reproduce. Frequency response is a little more exacting as it represents the same range of frequencies, but includes a tolerance level, such as such as ±3 dB.

So there you have it. Everything and probably more than you ever wanted to know about sound frequencies and their names.