Words from the Glossary
This month we take a look at headphones and related terms.

Headphones

This month's terms: headphones, earbuds, in-ear monitor (IEM), headphone mix, circumaural, supraaural, intraaural, closed-back headphones, open-back headphones, monaural, binaural, dichotic, diotic.
(Note: Click on the term to view its definition in the glossary.)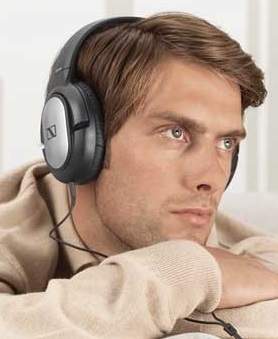 Headphones are one the important pieces of equipment in a recording studio. Also called earphones, earspeakers, or by the slang term cans, headphones allows performers to hear what the other musicians are playing as well as the playback of music that has already been recorded. In a similar manner, in-ear monitors allow musicians on stage to hear what is going on, replacing the ubiquitous stage monitors.

The headphone mix is the mix of audio signals sent to each performer. It is usually tailored to play what is most important for each musician. For example, a drummer may want to hear more bass and less lead guitar, while the vocalist may want to hear a more balanced signal. High quality headphones are a must, as they must reproduce a very accurate rendition of the audio signal.

Headphones come in a variety of styles. Circumaural literally means "around the ears" and refers to headphones with large cushions that surround the ears and excludes external sounds. Supraaural, which means "on top of the ear," describes headphones that rest on the outer ears. Although they are lightweight, they are not very effective at excluding external sounds. Intraaural means "in the ear" and refers to headphones that fit inside the ear—in other words, earbuds. Earbuds can be very effective at eliminating external sounds, but typical earbuds usually have low audio quality and are rarely used in a studio.

Open-back headphones allow more ambient sounds into the ears than closed-back headphones, which provides for a more natural and spacious sound. However, they also leak more sound out, which can be a problem in a recording studio. Musicians often listen with headphone volumes quite high, and even closed-back headphones will sometimes leak sound into a recording.

The term monaural means using one ear. It is quite often misused to mean monophonic, which is reproducing sound using one channel. Obviously, binaural means using two ears, but it is also used to mean a special type of recording that is done using a separate microphone for each ear and that is reproduced by playing each channel into the left and right sides of headphones. This creates a totally different experience from a stereo recording which is designed to create a stereo image.

And that brings us to the term dichotic, which means having different sounds present in each ear. It is the opposite of diotic, in which identical sounds are present in each ear.

So, that is probably much more than you ever wanted to know about headphones..