Words from the Glossary
Last month we discussed standing waves and how they cause problems in the recording studio. This month we will look at reverberation.

This month's terms: reverberation, early reflections, spring reverb, plate reverb, decay time, reverberation time (RT-60), convolution, convolution reverb, algorithmic reverb, impulse response, dereverberation, preverb, reverberant field, reverse reverberation.
(Note: Click on the term to view its definition in the glossary.)


Reverberation
Reverberation, or reverb for short, can be both a good or bad thing in the studio. As we discussed last month, sound waves bounce off the walls in various ways. The reflection and decay of those bouncing sound waves is called reverberation. Too much reverberation can cause a recording to sound awful, but adding just the right amount can really enhance the sound.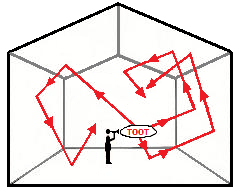 In the early days of recording, all reverberation was natural. In other words, it was the sound of the music being reflected off the walls of the recording studio. Engineers soon discovered that recordings could be improved by adding reverb when a recording lacked the natural reverb. One way was to reproduce the sound in a reverberant space, such as a stairwell. In fact, Elvis Presley's "Heartbreak Hotel" was recorded that way. A speaker was placed in the stairwell with a microphone to pick up the echoes and reverberations.

Engineers began experimenting with various methods to create artificial reverb. One method was to send an audio signal through a set of springs. Another attached a transducer to a metal plate suspended under tension within a rigid frame. The resulting vibrations were picked up with contact microphones. Today it not uncommon to find software that emulates spring reverbs and plate reverbs, because they have a distinctive vintage sound.

Once digital sound became a reality, the methods of creating reverb increased dramatically. Many algorithm were created to emulate the effect of real reverberation.

Reverberation can be broken down into its various parts. This first sound to be detected is called the initial reflection, followed by the early reflections. These are obviously followed by late reflections, which are sometimes called the reverb tail. The area beyond which reverberation begins to be louder than the direct sound is called the reverberant field. The various reverberation plug-ins vary the strength, arrival time, and length of these various parts to create a variety of reverberation effects.

in order to emulate the reverberation of various concert halls, audio engineers need to measure these parameters. The measure of how quickly a reverberation decays in a given space is called decay time. To standardize this measurement, they have come up with a designation of RT-60 (sometimes shown as RT60), the time it takes for a sound to decrease by 60 dB.

In an effort to improve upon these methods and create a more realistic sound, convolution reverb was developed. Using a real space such as an auditorium with great acoustics, a sound such as a loud bang (called an impulse response) is emitted and recorded. The resulting reverberation is analyzed using a mathematical model (called a convolution). This model is then used to create the reverberation of other sounds digitally. To distinguish between this method and other calculations, the others are now called algorithmic reverb.

As mentioned earlier an excess of reverberation is not good. It tends to make sounds seem as if they were recorded in a cave, making it sound muddy and lacking definition. One way to correct this is use dereverberation, the process of reducing reverberations in a room using advanced DSP techniques. This process is sometimes called room correction, room compensation, or room equalization. It can be very difficult to correct a poor recording due to excessive reverberation. A better solution is to use a room with good acoustics. More on this in our next issue.

Reverberation is also sometimes used for special effects. One of these, called preverb is produced by recording a reverberation while playing a track backwards, and then reversing it so that the reverb precedes a note rather than follow it. Another special effect is reverse reverberation, an artificial digitally created effect in which reverberation increases instead of decaying.

So there you have a quick summary of reverberation and related terms. Next month, we will take at look at echo.