Words from the Glossary
This month we will take a look at audio levels and how they impact the workings of a recording studio.

This month's terms: level, signal level, audio signal, mic level, line level, instrument level, speaker level.
(Note: Click on the term to view its definition in the glossary.)


Audio Levels

One of the important concepts in a recording studio is audio levels. If the level is too high, it can cause distortion. If it is too low, noise becomes a problem. Another problem is keeping track of the various levels in the studio.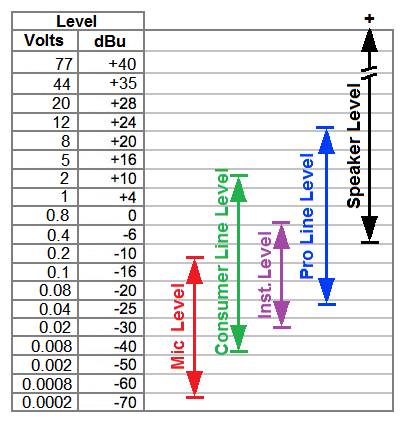 Level means the strength of an audio signal, which is usually indicated by its amplitude or voltage as measured on a level meter. It can also mean the strength of a sound indicated by its sound pressure level. However, that is a topic for a future newsletter. A third definition is having a consistent and even volume or signal level. That is one of the reasons we monitor audio levels.

An audio signal is an analog representation of sound, usually represented as an electrical voltage. (It can also be represented as digital data, but for our purposes here, we will only be discussing analog signals.) A signal level is the level of the audio signal. Signal levels come in four distinct levels: (1) microphone level, (2) line level, (3) instrument level, and (4) speaker level. These levels are, for the most part, incompatible. For example, if you plug a microphone into a line input, you will hear nothing because the signal is way too weak.

Microphone level is the level of output produced by a microphone, typically 1 to 3 millivolts. They are so low that in order to be usable by audio equipment they must be boosted with a preamplifier. Although a preamp (short for preamplifier) sounds like a very mysterious piece of gear, it is actually just an amplifier designed to amplify very low signals up to line level. Ribbon microphones put out the lowest signals. They usually require a preamp that can boost the signal much more than preamps designed for dynamic and condenser microphones.

Line level is the typical level of output from audio equipment, such as CD players, tape recorders, and cassette players. Actually, there are two types of line level, consumer and professional. Professional levels are just over one volt, while consumer levels are about 0.3 volts. To distinguish between the two, professional equipment levels are measured in dBu, while consumer audio uses dbV. Professional levels are usually designated as +4 dBu (which equals 1.23 volts), while consumer levels are designated as -10 dbV (which equals 0.316 volts). If this seems confusing, refresh your memory by looking at our October newsletter.

Instrument level is the level of output for instruments using electrical pickups, which can vary from several millivolts to several volts. These often must be preamplified as well. In the studio, we often use a DI box to convert the instrument signal to a line input.

Speaker level is the amplified signal output from a power amplifier and is used to feed loudspeakers. This signal is usually measured in watts, so we do not usually speak of voltage levels, but they can vary over a very wide range. For example, the speaker in your smart phone is probably less than a volt, while your home stereo system probably puts out several volts. The speaker systems used at outdoor concerts can be a thousand watts or more. One thousand watts is equivalent to nearly 90 volts.

You have to be aware of what signal level you are dealing with. Although it is not recommended, you can easily disconnect your home speakers with the amplifier turned on. However, if you're a roadie, I would not advise disconnecting speakers at a concert with the power on. You could be subjected to hundreds of volts.

Next month, we'll take a look at how we measure and monitor these audio levels.