Words from the Glossary
Last month we looked at audio levels and how they impact the workings of a recording studio. This month we will look at how to measure and monitor those levels.

This month's terms: meter, level indicator, VU meter, segmented meter, LED, peak meter, peak indicating meter, peak level, peak-to-peak, RMS, PPM, recording level.
(Note: Click on the term to view its definition in the glossary.)


Metering Audio Levels

A meter is an instrument used to measure and indicate a quantity. In the studio we use meters to measure audio levels. These are called level meters and level indicators.

Traditionally, the VU meter (pictured above) was the workhorse, used in broadcasting and recording studios around the world. VU stands for volume unit because they were calibrated to match the response of the human ear. For the most part VU meters have been replaced by segmented meters in audio equipment used today. However, you will still see them occasionally.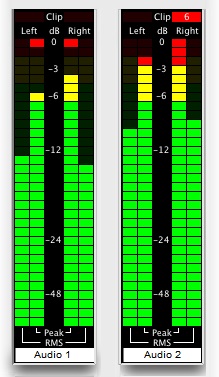 Segmented meters use a series of light-emitting diodes (LEDs) to indicate a level by progressively showing more LEDs as the level increases. These often have a color scheme in which lower levels are green, moderate levels are orange or yellow, and the highest levels are red. Frequently, red indicates excessive levels or clipping. In today's digital world, these meters are often graphical representations presented on the computer screen.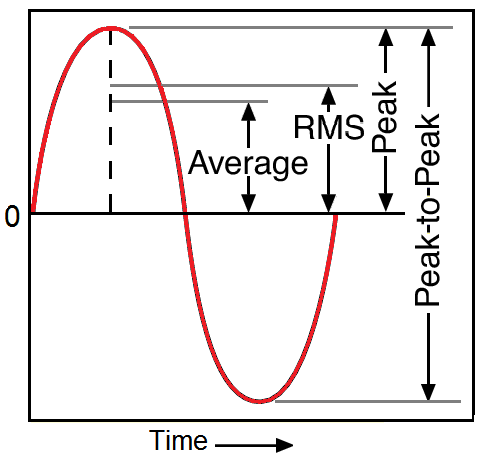 Usually these meters are peak meters, and sometimes they include peak indicating meters. While those may sound like the same thing, a peak meter displays a fluctuating indication of what the peak signal is at any given time. Peak means the maximum excursion from zero. Peak-to-peak means the maximum distance from greatest excursion in the negative direction to the greatest excursion in the positive direction. (See diagram.) Because a peak might last only a few milliseconds, it is sometimes difficult to see the peak. So a peak indicating meter will display the peak for a few seconds after it is reached.

Another time of meter is the RMS meter. RMS stands for root mean squared, a fancy way of calculating an average. Note in the illustration of the segmented meter, each channel has two level indicators. The peak level is shown on the inside and RMS is shown on the outside of each channel. While recording engineers are concern about peak levels to avoid overloading and distorting the signal, mastering engineers frequently use RMS meters, because they are concerned about the average level so that all tracks sound nearly equally loud.

Another meter is the PPM (Peak Program Meter). Although it sounds similar to the peak meter, it is not. It is designed to indicate the peak level of a program, not just an instantaneous level. It was introduced in response to legislation dictating loudness of television programs.

All this metering is important in order to maintain proper recording levels. If a signal is too strong, it will overload and clip causing distortion. A signal that is too weak will be subject to excessive noise. While this seems like a simple concept, you must remember that a recording engineer is dealing with many tracks. Even if the level of all of them are reasonable, when added together their levels can become excessive. So proper metering is extremely important.

Next month, we'll take a look at control room design.