Words from the Glossary
This month we begin looking at noise and distortion.

This month's terms: noise, distortion, dither, hiss, hum, modulation noise, tape noise, quantization noise, quiescent noise, self noise, RFI, signal-to-noise ratio.
(Note: Click on the term to view its definition in the glossary.)


Noise and Distortion - Part 1

One of the goals of a good recording studio is to produce good clear and clean sounding recordings. That means you must do everything properly to prevent noise and distortion.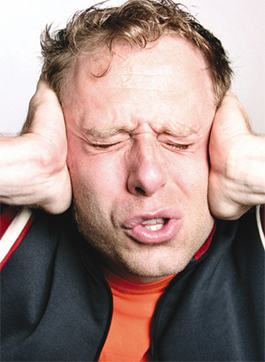 Noise has several meanings. One definition is any sound that is unwanted, unpleasant, or annoying. An example in the recording studio is someone accidentally banging their guitar into a music stand. While easily corrected, it may result in having to re-record a track. Another example is the sound of an air conditioning system blowing air into the studio, something that is not easily corrected unless you design your studio correctly—something we took into consideration when building our studio.

Another definition of noise is any irrelevant or meaningless data or output that occurs along with desired information. That is something politicians are good at, but we will not be looking into that in this article.

A third definition is any unintentional or undesired signal in an audio or electrical signal. That is what we will consider here.

Distortion is any change in an audio waveform. Most of the time distortion is something you want to avoid. However, sometimes it is desirable. For example, a little distortion added to an electric guitar can produce a nice, rich tone. Harmonics added to a sound is considered distortion, but when even-ordered harmonics are added to music in the right amount, it can make it sound warm. Hand clapping can be considered a noise, but when added rhythmically to a song can add excitement. Sometimes noise is added to an audio signal to prevent distortion. That is exactly what dither is. When a digital file is converted from one sampling rate to another, very low signal levels can cause distortion. By adding a small amount dither (noise), this type of distortion can be greatly reduced.

Now let's take a look at noise we do not want to get into our audio files. One of these is hum. Hum is caused by magnetic fields generated by electric lines. It usually has a frequency of 60 Hz (or 50 Hz if you are in Europe) or a harmonic thereof. Another noise is RFI, which stands for radio frequency interference. This is noise that is introduced by radio frequencies (RF) that gets into audio equipment, typically from the broadcast of nearby radio and television stations, as well as police, fire, and emergency service two-way radios. Hum and RFI are the primary reason why recording studios use balanced cables. Your home stereo uses shielded cables for the same reason, but balanced cables are much more effective at eliminating such interference.

Hiss is a noise containing all frequencies, but it is most noticeable at higher frequencies. Magnetic recording tape was notorious about producing hiss. The Dolby noise reduction systems were invented to overcome this problem. Most microphones also produce hiss, but for most good quality microphones, the hiss is so low as to not be a problem, except when you are trying to record a very low level sound.

Another noise associated with magnetic tape is modulation noise. It is a hiss, but unlike regular hiss it varies in intensity with the intensity of the main signal. It is caused by the Barkhausen effect and is sometimes called Barkhausen noise. Another form of tape noise is saturation noise. It is a noise that occurs when a magnetic tape was not properly erased.

Since very few of us are using magnetic tape any more, we do not need to worry about the various tape noises. But that does not mean we are out of the noise woods when using digital recordings. Quantization noise is a type of error introduced when an analog audio signal is converted into digital form. Fortunately, it is something most of us do not need to worry about.

Self noise is the intrinsic noise produced by a device that occurs when no signal is present. All devices, such as a resistors, capacitors, transistors, transformers (component that make up electronics circuits), and microphone have self noise, which is sometimes called internal noise.

Finally, there is quiescent noise, the noise that occurs in an empty recording studio or listening space. It consists of all sources of sound that can get into the space, such as traffic noise, air conditioning equipment, fluorescent light hum, computer fans, and the hum from a loudspeaker. A well designed recording studio can minimize most of this noise, but not all of it. The goal is to get the quiescent noise as low as possible.

So how do we measure noise. Primarily using a measurement called signal-to-noise ratio. Abbreviated as S/N or SNR, it is obviously the ratio of audio signal to the noise, expressed in decibels (dB). Most audio equipment has specification that include SNR. In the studio, you maintain a good SNR by keeping your recording levels at the proper level. The main problem occurs when you are recording something live, which has great dynamics. The quiet passages can sometimes become overwhelmed by the ambient noise.

Next month, we'll continue this discussion by looking at distortion.